About Prineville Secure Storage
Our Mission – To provide a quality service or product to the communities we serve, in a manner which is glorifying to God.
Meet Our Prineville Managers
"As managers, we ensure that our customers have the best storage experience possible, and we are happy to work in an environment that allows us to be with our kids for most of the day."

Brendan and Jennie
What do Resident Managers Do?
Our on-site managers live on the premises and provide peace of mind, a family feel and the know-how to solve any storage challenge you've got. Each of our locations across Oregon has its own on-site management, so you have dedicated service from folks you'll get to know when you rent storage units in Prineville, Oregon.
An on-site Prineville resident storage manager is just one of the ways we ensure the security of your items on multiple levels. In fact, we haven't had a break in or vandalism since we opened our doors in 1987! Plus, the people in our community like that they see a familiar face when they come to their storage unit. It's just another way our family-owned business creates a comfortable and welcoming environment for you. We're here to help you:
Our friendly management team is available to answer questions, help you get the most out of your unit, and be a helpful resource.
Take a Digital Tour of Prineville Secure Storage
Prineville Storage Features
Residential managers live on-site
On-site bathrooms
Enclosed storage for RVs, boats, and cars
RV dump station
Extra clean premises
Involved with the local community
Family owned and operated
Convenient location
Daily access and extended gate hours
Serving Prineville, OR
Prineville Secure Storage is conveniently located in the north end of Prineville on Buckboard Lane between NE Peters Rd and NE Blackbear St. Our location in Prineville, OR allows for quick access from Main St and affords plenty of space for all of your storage needs, including boats, RVs, and cars.
Ochoco Creek Park
Ochoco Wayside State Park
Rimrock Park
Bowman Museum
Crooked River
Ochoco Reservoir
US Hwy 26
Ochoco National Forest
Prineville Reservoir State Park
The beautiful Ochoco National Forest and the Prineville Reservoir and Ochoco Reservoir attract the residents of Central Oregon from Crook County and beyond. That's why ​Prineville Secure Storage provides clean, highly secure storage units at affordable prices. We have the space for your ​belongings so you can free up more room. Reserve today!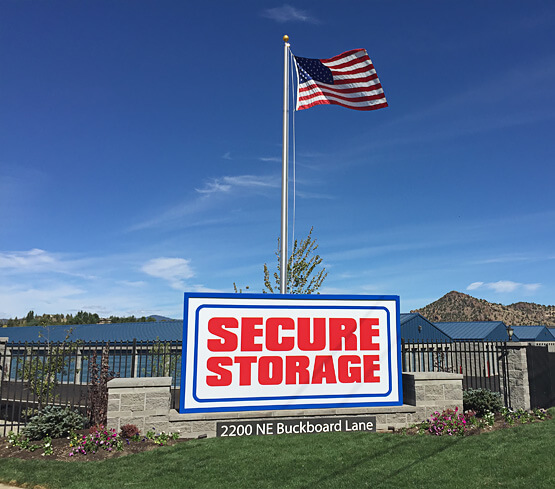 Office Hours:
Monday – Friday: 10AM – 5PM
Saturday: 9AM – 5PM
Sundays: Closed
Gate Hours:
7AM – 9PM, everyday