Storage Costs and Storage Unit Sizes in Prineville, OR
"Rental Rates Won't Change for at Least a Year."
Don't settle for any old storage unit – make sure you choose the size you need based on the stuff you have. Need help deciding? No problem. Our knowledgeable staff can guide you on the storage cost and storage unit sizes based on the type of dwelling space, furniture, or vehicle. Unlike other storage facilities, we w​on't raise your rental rate for at least a year, that's our promise to you.
[No Location Found]
If you're looking for a little help on storage unit sizes, here are some general guidelines:
A 5×10 unit is 50 square feet of space and can typically fit the contents of a medium-sized bedroom, dorm room or studio apartment
A 10×10 unit is 100 square feet and is perfect for the contents of a one-bedroom apartment (without large appliances) or a couple medium-sized bedrooms
A 10×15 unit is 150 square feet and holds up to three bedrooms' worth of stuff, or a one-bedroom apartment plus boxes; it can also serve as office supply storage
A 10×20 unit is 200 square feet of space and fits contents of a two-bedroom home with appliances and even miscellaneous items (some people use these for cars!); in terms of sizing, this is similar to a one-car garage
A 10×30 unit is 300 square feet and can store all the items from a larger household with multiple rooms or can provide enough space for a work vehicle and the contents of a home office
The covered 12×30, 12×35 and 14×45 storage units are perfect for your recreational vehicles and cars
The enclosed 24×45 units are great for RVs, cars, boats and more
Don't forget that we have special storage pricing for our climate-controlled storage units to store everything from your artwork and photography to special fabrics and even wine.
With us, you only pay for the time you need the storage unit. Plus, we offer a free move-in truck when you go with Secure Storage!
So when weighing all the factors that go into storage cost, make sure you keep in mind the extras that make storing your stuff so nice — like convenient location, secure storage and lots of storage options that grow — or shrink — with you along the way.
We hope you choose Secure Storage when you are looking for a storage unit in Prineville, Oregon.
​Reserve a unit today!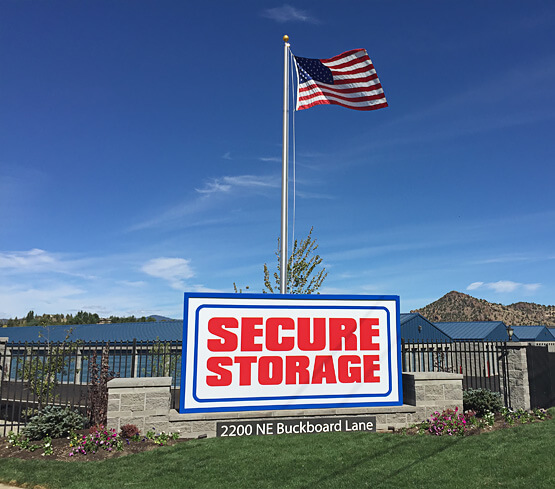 Office Hours:
Monday – Friday: 10AM – 5PM
Saturday: 9AM – 5PM
Sundays: Closed
Gate Hours:
7AM – 9PM, everyday